Torchmate 3
CNC Plasma Cutting Kits On A Budget
Lincoln Electric Cutting Systems Torchmate 3 Bolt together CNC systems can be assembled with a few basic hand tools. The plasma table can be disassembled in sub-sections and re-assembled in minutes if it must be moved. CNC gantry kits are also available for customers who want to customize their table.
Plasma cutting is improved with our ACCUMOVE motion control systems and standard height control. Every Torchmate CNC system includes a shape library and available wireless touch screen control on your widows tablet or droid OS.
Our Torchmate 3 bolt together CNC plasma machines weighs in at approximately 450 lbs., yet has the stiffness and rigidity of a steel machine weighing four times more. The extruded aluminum rail support beams with thick diagonal webs running their entire length. Joints in the frame use 1/4" thick triangulated gussets. One of the rails is dropped 8" below the other to facilitate loading the material to be cut with a forklift. The gantry can be moved to the far end of the table to make room for the forklift.
Industrial leveling screws with a load capacity of 5,000 lbs. each are used on each of the 6 legs. These make the leveling of the machine an easy chore. Extra T-nuts are supplied for each leg so diagonal leg bracing can be easily added, should this ever be desired.
The Torchmate 3 comes with dual 380 oz. in. motors on the X (long) axis, and one 380 oz. in. motor on the Y axis. The drive system is dual rack and pinion with 5:1 low backlash gearbox reduction. A test indicator has measured positioning accuracy at 1 1/2 thousandths of an inch (.0015"). The X axis motors and gear racks are outside the frame rails on both sides of the machine and are protected by a 1" steel rail overhang, keeping clear of any debris caused by the cutting process. The 1 1/4 x 3/8" gear racks are specially manufactured for the Torchmate 3. They have far more rigidity than conventional square gear racks, ensuring that they are perfectly straight for their entire length.
The Torchmate 3 uses precision linear motion Y axis components and an industrial linear motion slide with four hardened and ground rails at right angles to each other. The gantry rides on a three-point support system using 1" hardened needle bearing cam followers with a load capacity of 2,225 lbs. each. The X axis rails are cold roll steel flat bars. Guide rollers grip either side of the rail to maintain alignment. Cold roll steel has a tolerance of under a thousandth of an inch. If the rails ever wear over time, they can be replaced economically by most steel suppliers. Replaceable felt wipers at either end of the cassette help keep out dust and grit.
Bolt Together Torchmate 3 machines are supplied with slat support brackets with slots into which 3/16" thick steel strips can be placed. For cutting steel up to about 1/2" thick without reinforcement, you can mount the brackets on your frame as shown here. For heavier material (over 1/2" plate), fabricate a separate support table, and weld the slat support brackets to either side of the table. The slotted brackets and optional water table are optional on Torchmate 3 DIY kits.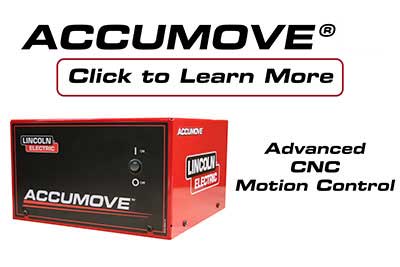 Additional Bolt Together Options
Download Full Growth Series Catalog
Give us a call today for a custom quote!
North America (775) 673-2200 | South America: (775) 624-9029 | Brazil (+55) 19 3115 2711

What's Included:
Integrated Arc Voltage Height Control (AVHC)
Ohmic Sensing
Dynamic Cornering™
Visual Machine Designer (VMD)
Tablet Compatible
28 Part Shape Library
Multi-Tasking
Array Creation
Job Queue
Plate Alignment
Industrial Z-Axis Lifter Station
6¾ Inches of Travel
Enclosed Twin V-Rail Linear Guides
Integrated Lead Screw Drive
330 oz-in Stepper Motor
Production Grade CNC Controller
Ethernet Connectivity
On-the-Fly Motion Control
Cut Quality Algorithms
Advanced Look Ahead
Deterministic Stepper Output
Machine Size
4'x8' machine leaves 80"x132" footprint
Table Type
Model Features
Easy assembly with gantry kit or bolt together
Leveling legs
Drop-rail forklift feature
Dual x-axis motors
Gearbox drive system
Standard Equipment
Bolt Together
Precision ground x-axis rails
Heavy anodized extruded aluminum ready for easy bolt together assembly
Slat support brackets with slots for 3/16" thick steel strips
Hardware
Construction
Heavy reinforced extruded aluminum gantry
Y-axis industrial linear motion roller cassette and rail system
X-axis has eight 1" diameter hardened needle bearing cam followers riding on 2 ground steel rails
Rail height 41" and 33"
Electronics/Motion System
Micro-stepping stepper motors available
8 amp optically encoded servo motors available
Two x-axis drive and motor and one y-axis drive and motor
380 oz. in. stepper motors
User Controls
PC based control software with Ethernet interface
Weight
Input Power
15 amp/ 110 volt for controls
220 volt models available for international customers
Cutting Area
Cutting Capacity
1" Thick - Plasma Cutting
4" Thick - Oxyfuel (additional material support required)
Drive System
Dual rack and pinion with 5:1 low backlash gearbox reduction
Traverse Speed
Machine Resolution
Standard Software
Torchmate VMDSoftware
Accepts G-code
Computer Requirements
Windows 7,8 or 10
1 GB processor
1 GB ram
30 GB hard drive
Warranty
Full 1 year warranty on electronics, parts, and software
Lifetime unlimited free technical support