Torchmate X 5x10 - A Light Industrial CNC Plasma Cutting Table

Unitized 5x10 CNC Plasma Table
The Lincoln Electric® Torchmate X™ is a light industrial CNC plasma cutting table. This model, new for 2018, includes a new streamlined design with an improved cable management system, integrated electronics, and a new touchscreen. The ease of use has also seen significant improvements with direct DXF and DWG file import, as well as onboard nesting. This onboard nesting allows you to nest the parts directly on the touchscreen for quick cutting of your parts. In one interface, users are able to synchronize the height controller, motion controller, and design software—making it easier than ever to teach a team of operators the table's most advanced operations.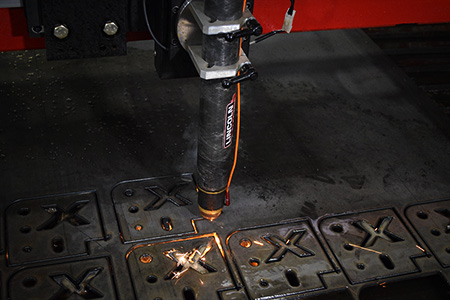 The Torchmate X table is available with Lincoln Electric's own highly regarded air plasma cutters. The FlexCut 80 and FlexCut 125 are robust plasma cutters giving you top notch cut quality along with some of the best consumable life in the industry. FlexCut air plasma systems offer impressive pierce thicknesses and high duty cycles for their cost. No gas control is required, yet the cut quality of the machine remains competitive when cutting metal less than or equal to one inch in thickness.
The Torchmate X is a unitized system which means that every critical part of the machine - table, motion controller, and plasma cutter - are designed and built by Lincoln Electric. This gives you the confidence of knowing that all the parts of the machine are built to be used together and supported by one company. When buying such an important piece of machinery for your business, obtaining the reliability and support of Lincoln Electric means you'll be able to attach your business to the 120 years of success that Lincoln Electric has built it's reputation on. Make the right choice today by giving us a call at 775-673-2200 or filling out the instant quote request form below.
The Torchmate X tables are shipped fully assembled. The setup process has been streamlined making the process smooth and enabling you to start putting the machine to work right away. You are required to provide an on-site supply of air, power, and water. You will also need a forklift to receive the machine and put it into position.
To learn more about the Torchmate X, give us a call at 775-673-2200 and we will be happy to walk you through the best options for your needs. Please also request an instant quote below!
Torchmate X with High Definition Plasma and Larger Table Size Options - 6x14, 6x22, 8x14, 8x22
The Torchmate X is also available with High Definition plasma cutters and in larger sizes. Please click the link to see the details on these larger tables.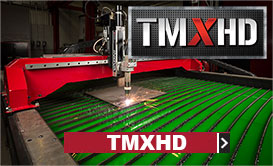 Request A Quote below for the Torchmate X 5x10 Table and get an Instant Quote to your Email!

Machine Size
5x10 - New Unitized Model
5'X10' machine leaves 92.54"x154.77" footprint
Model Features
DXF, DWG Direct Import
Adjustable water height on water table
Low backlash 5:1 gearboxes
Durable powder coat finish
Angled support slats for increased life
Factory test cut from your machine included with shipment
Standard Equipment
Water table, Gantry, and Arc Voltage Height Control
Full cable carrier system
Visual Machine Designer Touchscreen Interface
FlexCut 80 or FlexCut 125 plasma cutter
Construction
Steel fabricated gantry with dual y-axis drive
Precision x-axis linear guide—the ultimate in accuracy and durability
Precision ground y-axis guide rails to within .001 tolerances, 63 Micro finish, custom made in the USA
Electronics/Motion System
Two Y-axis 380 oz. in. stepper motors
One X-axis 380 oz. in stepper motor
8 amp micro stepping drives
Motion Controller
User Controls
Full featured Visual Machine Designer HMI
Weight
Approximately 3,739 lbs for 5' x 10' system with no water
Input Power
Torchmate X machine requires 15 amp/ 110 volt AC service of 8amp/220v AC service
Input Air
8 SCFM @ 90 PSI, dry air filtered to minimum 5 micron
Cutting Area
Cutting Capacity
Drive System
Rack and pinion X/Y-Axis 5:1 Reduction
Ball Screw/Linear Stage Z-Axis
Traverse Speed
Cut Speed
Standard Software
Visual Machine Designer with Onboard Nesting
Torchmate CAD/CAM
Available Software
BobCAD DXF Art Package
Torchmate CAD/CAM Professional Text Compose and Art Package (includes a large library of fonts and clipart)
Warranty