You are here: Home

»

ReadyPak - A Plug and Play CNC Machine for Educational Institutions
Torchmate 4400 - A CNC Cutting Solution for Educators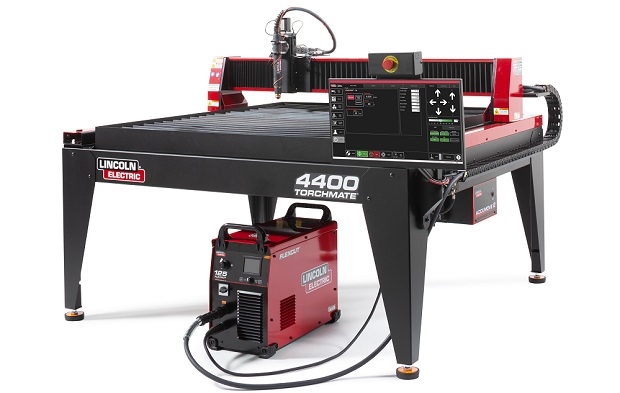 Torchmate READY-PAK®:
The Torchmate READY-PAK is our most popular CNC product line in the education market. Its size, utility, and ease of use make it a perfect fit for students and teachers alike. This is a 4x4 cutting table. They come fully assembled with a Lincoln Electric® plasma cutter, water table, height control, ACCUMOVE® motion control technology, and the CAD/CAM EDU software package. The computer and the power supply can be identified and added on in the construction of your order.
When you receive your Torchmate READY-PAK, it's ready to cut within minutes of its uncrating. Simply connect your power and your air supply, load the gantry onto the table, hook up and configure your computer, and you'll be ready to cut. The wiring of the motors, the construction of the water table, and the connection of your controller will already be done for you.
Partnering with Lincoln Electric to supply your Torchmate table gives you and your students a unique advantage in providing the best education possible. Our sales team and technical support department are readily available to field all of your CNC related questions. Give us a call today to start the process of getting a Torchmate table in your classroom today! (775) 673-2200
 Torchmate 4'x4' 4400 CNC System Plasma READY-PAK
Includes:
4'x4' table top CNC system with cable carriers
Water table for fume control and material support
Plug-N-Play USB electronics box - all cabling included
Full Torchmate CAD/CAM shape creation software includes nesting, scanning, tool pathing, kerf compensation and importing of 32 different file formats. 
Visual Machine Designer software accepts all dxf files and straight g-code
Built in HMI display
Machine is completely assembled with base and slats
Machine is tested before shipping
Free unlimited phone and email tech support via a trained, dedicated and professional support staff