The Torchmate Growth Series 4x4 table marks the transition from garage to shop. It opens up your material purchasing options by giving you a more standard industry dimension. Metal sheets often come in 4'x8' sizes, with additional shear fees that can average as much as $50. This standardized table width alone has the potential to pay for itself over time, which can really make buying the bigger table an easy decision.
This versatile and adaptable robotic metal cutting machine adds to Lincoln Electric Cutting System's growing list of industry-leading CNC offerings. The Growth Series 4x4 CNC gantry kit with rails is offered for sale through nationwide distributors and by calling direct at (866) 571-1066.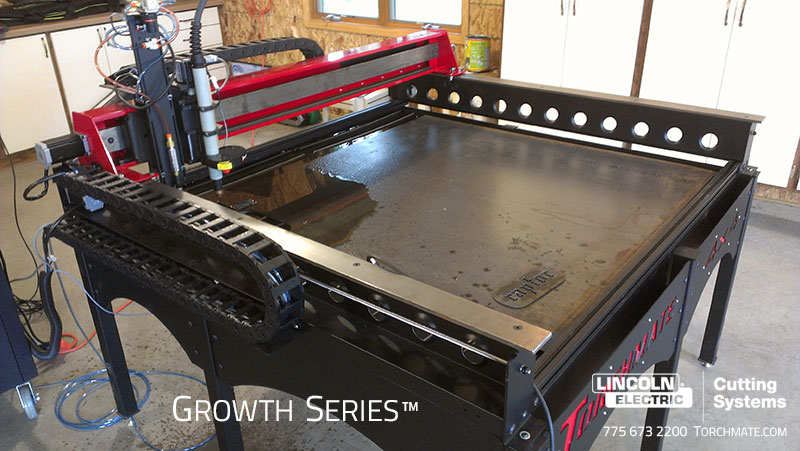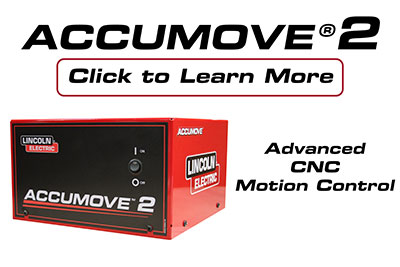 Standard Industry Dimensions
The ACCUMOVE 2 controller is the genius behind our Growth Series product line. It takes the entry-level CNC plasma-cutting machine to a heightened level of operation. This was due to our team of Lincoln Electric engineers that reengineered and redeveloped the technology and software that was normally associated with our highest-end systems.
Features like Dynamic Cornering™, Ohmic Sensing, and a new signal processor known as ACCUMOVE VFC, were all combined to give our most
entry-level system something that no other competitor in the market could
obtain. We further simplified the process by integrating our lifter station and
height controller into one touch-friendly display.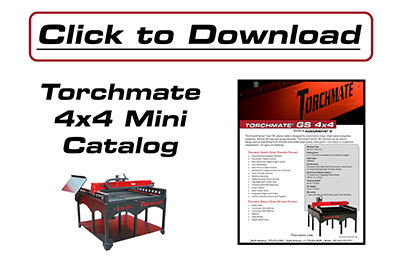 The ACCUMOVE 2 motion controller has greatly improved our 4x4 Growth Series CNC cutting table, and it has given our customers the opportunity to produce some substantial income with a small sacrifice in shop space. To learn more about how the ACCUMOVE 2 motion controller has simplified our CNC operations, visit our FAQ page!
Simplified CNC Operations
Additional Growth Series Sizes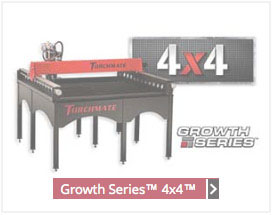 Download Full Growth Series Catalog
Give us a call today for a custom quote!
North America (775) 673-2200 | South America: (775) 624-9029 | Brazil (+55) 19 3115 2711
Request A Quote - Receive An Automated Quote on Our Tables By Email
| Torchmate 4x4 Kit with FlexCut 80 | Torchmate 4x4 Kit |
| --- | --- |

What's Included:
Ohmic Sensing
Dynamic Cornering™
Visual Machine Designer (VMD)
Tablet Compatible
28 Part Shape Library
Multi-Tasking
Array Creation
Job Queue
Plate Alignment
Industrial Z-Axis Lifter Station
6¾ Inches of Travel
Enclosed Twin V-Rail Linear Guides
Integrated Lead Screw Drive
330 oz-in Stepper Motor
Production Grade CNC Controller
Ethernet Connectivity
On-the-Fly Motion Control
Cut Quality Algorithms
Advanced Look Ahead
Deterministic Stepper Output
Additional Included Features:
Raw Voltage To Frequency Converter | ACCUMOVE VFC *Click here to watch*
(3) 396 oz-in X and Y Axis Stepper Motors
175 ipm Traverse / Cut Speed
Magnetic Torch Breakaway
Steel Cutting Surface
Micro-Stepping Resolution of 0.0006"
Ball Bearing Linear Guides
Anti-backlash Lead Screw Drives
Unlimited Lifetime Tech Support
1 Year Warranty on Parts, Electronics, & Software
Footprint: 60 3/4" X 60 1/4"