Ideal Shop Size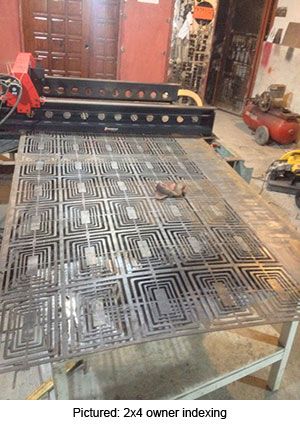 The Torchmate Growth Series 2x4 is the only CNC plasma-cutting table of its size on the market. Its expanded y-axis allows the table to take on more diverse projects, yet it still fits seamlessly with the rest of your workbench by maintaining a two foot width. This size table is able to cut most metal art files and most table-height custom furniture pieces, which makes for an expanded list of potential markets to enter.
You can also index your table to handle materials far beyond the parameters of the machine. The 2x4 CNC gantry kit with rails has the ability to replicate hundreds of parts, which can yield serious income. It might only be an additional two feet compared to the Torchmate Growth Series 2x2, but it reflects a broader scope of projects that you will be able to handle.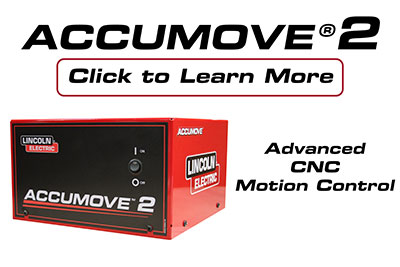 Touch Screen Capable


We've also given our users an easier way of controlling the software through a simplified interface. Features like Plate Alignment, Array Creation, and Multi-tasking are now easily accessible from the home screen. It's also touch friendly, easily programmed onto a tablet, and has a very low learning curve. Functions within its motion controller, the ACCUMOVE 2, have expanded its ability to take on bigger projects. It comes with a long list of new features that make your cutting table work smarter, not harder. Simply adjusting the way our controller communicates with the stepper motors has made the
machine run smoother. It's now more stable, more accurate, and more
precise than ever before.
To an end user it might just be the brains behind the technology, but what they don't realize is how important it is in learning and mastering the operations of the table. Read more about our ACCUMOVE 2 motion control technology by clicking the product image! Give us a call today to find out more! 775-673-2200
Easy-To-Learn Software
Additional Growth Series Sizes
Download Full Growth Series Catalog
Give us a call today for a custom quote!
North America (775) 673-2200 | South America: (775) 624-9029 | Brazil (+55) 19 3115 2711

What's Included:
Ohmic Sensing
Dynamic Cornering™
Visual Machine Designer (VMD)
Tablet Compatible
28 Part Shape Library
Multi-Tasking
Array Creation
Job Queue
Plate Alignment
Industrial Z-Axis Lifter Station
6¾ Inches of Travel
Enclosed Twin V-Rail Linear Guides
Integrated Lead Screw Drive
330 oz-in Stepper Motor
Production Grade CNC Controller
Ethernet Connectivity
On-the-Fly Motion Control
Cut Quality Algorithms
Advanced Look Ahead
Deterministic Stepper Output
Other Included Features:
Raw Voltage To Frequency Converter | ACCUMOVE VFC   *Click here to watch*
(3) 396 oz-in X- and Y-Axis Stepper Motors
200 ipm Traverse / Cut Speed 
Magnetic Torch Breakaway
Steel Cutting Surface
Micro-Stepping Resolution of 0.0006"
Ball Bearing Linear Guides
Anti-Backlash Lead Screw Drives
Unlimited Lifetime Tech Support
1 Year Warranty on Parts, Electronics, & Software
Footprint: 36 3/4" X 60 1/4"