Torchmate Classic - A Bolt Together CNC Cutting Table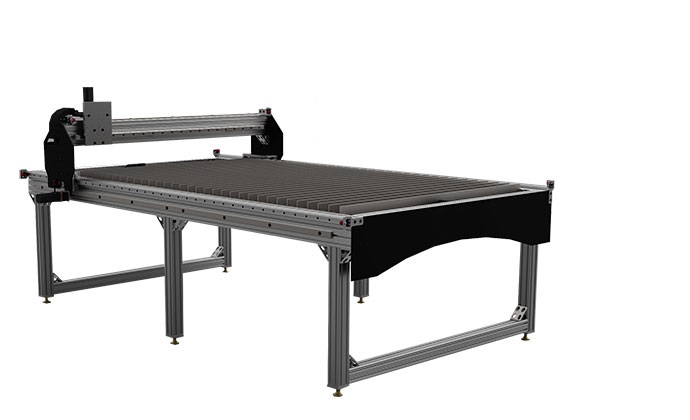 Next Generation Automated Plasma Cutting
Available in 4x8 and 5x10, the Torchmate® Classic bolt together CNC machine represents improved motion control and cut quality from Lincoln Electric. Spring boarding off the design that helped Torchmate CNC plasma cutters become a household name; the plasma table is engineered with components that can provide extended hours of continuous operation, and has self-cleaning linear guidance to reduce maintenance. Its extruded aluminum frame is both light and durable, and allows you to setup this versatile CNC machine anywhere in your shop. The design, coupled with the power of our ACCUMOVE® controller, will provide cut quality not normally associated with CNC plasma kits.
Start Plasma Cutting Quickly
The internal components of our ACCUMOVE controller make the Torchmate Classic CNC machine the most advanced aluminum table in the industry. The Visual Machine Designer software simplifies our advancements by packaging the sophisticated features in a user-friendly interface. The standardization of operating procedures can be easily programmed into the controller, keeping the transition between operators fast, and your part quality consistently high. The built in shape library gets you plasma cutting fast.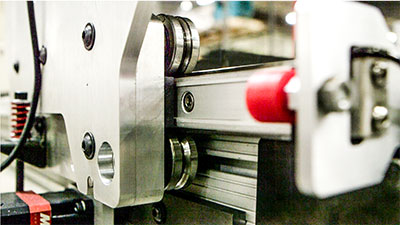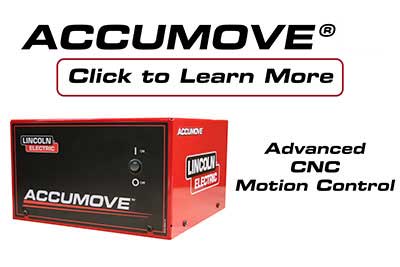 Advanced CNC Machine Motion
We've restructured the Y-axis linear guidance on the Torchmate plasma table to incorporate our new perpendicular V-rail gantry carriages. The design change has reoriented one of the V-roller carriages to be perpendicular with the other. The ACCUMOVE height control also rides on a more advanced linear guide that is equipped with a 35mm profile linear rail with a recirculating ball bearing cassette. This combination of linear guidance reduces friction in the linear motion of both the CNC gantry and the torch.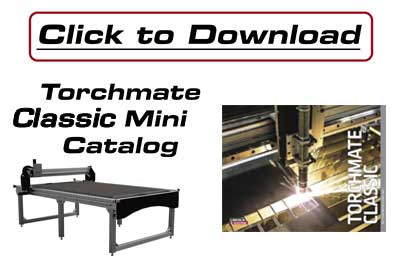 Do you have any further questions? Call today to speak with a trained sales representative! 775-673-2200
Download Full Growth Series Catalog
Give us a call today for a custom quote!
North America (775) 673-2200 | South America: (775) 624-9029 | Brazil (+55) 19 3115 2711

Torchmate Classic Specifications:
(3) 396 oz-in Stepper Motors
(3) 10:1 Gear Boxes
Maximum Traverse Speed: 1,060 ipm
Two-Tool Mounting Plate
V-Rail/V-Groove Y-axis Linear Guidance
35 mm Profile Linear Rail X-axis Linear Guidance
Unexposed Gear-Rack and Pinion Drive System
Spring-loaded Gear Engagement
Perpendicular Gantry Carriages
Gantry Auto-squaring
Homing/Limit Switches
10 Auxiliary Inputs (3 Available)
15 Auxiliary Outputs (11 Available)
Machine Resolution: 0.00005"
Gantry Clearance: 5"
Maximum Weight Capacity: 1/2" Mild Steel Plate
Input Power: 120 VAC @ 7.5A Max
Anodized Aluminum Frame
Limited to plate marker and additional tool
Dimensions:
4 × 8: 84" × 121" × 63"
5 × 10: 96" × 145" × 63"
Weight:
1,200 lbs 4 × 8
1,500 lbs 5 × 10
ACCUMOVE® Controller Features
Integrated Arc Voltage Height Control (AVHC)
Ohmic Sensing
Dynamic Cornering™
Visual Machine Designer (VMD)
Tablet Compatible
28 Part Shape Library
Multi-Tasking
Array Creation
Job Queue
Plate Alignment
Industrial Z-Axis Lifter Station
6¾" of Travel
Enclosed Twin V-Rail Linear Guides
Integrated Lead Screw Drive
330 oz-in Stepper Motor
Production Grade CNC Controller
Ethernet Connectivity
On-the-Fly Motion Control
Cut Quality Algorithms
Advanced Look Ahead
Deterministic Stepper Output
Optional 4x8 Watertable | Torchmate Classic
Control dust and fume with the optional 4x8 Torchmate Classic watertable
The Torchmate Classic CNC machine features an optional one piece waterpan and steel frame that will accomodate up to 1" thick mild steel.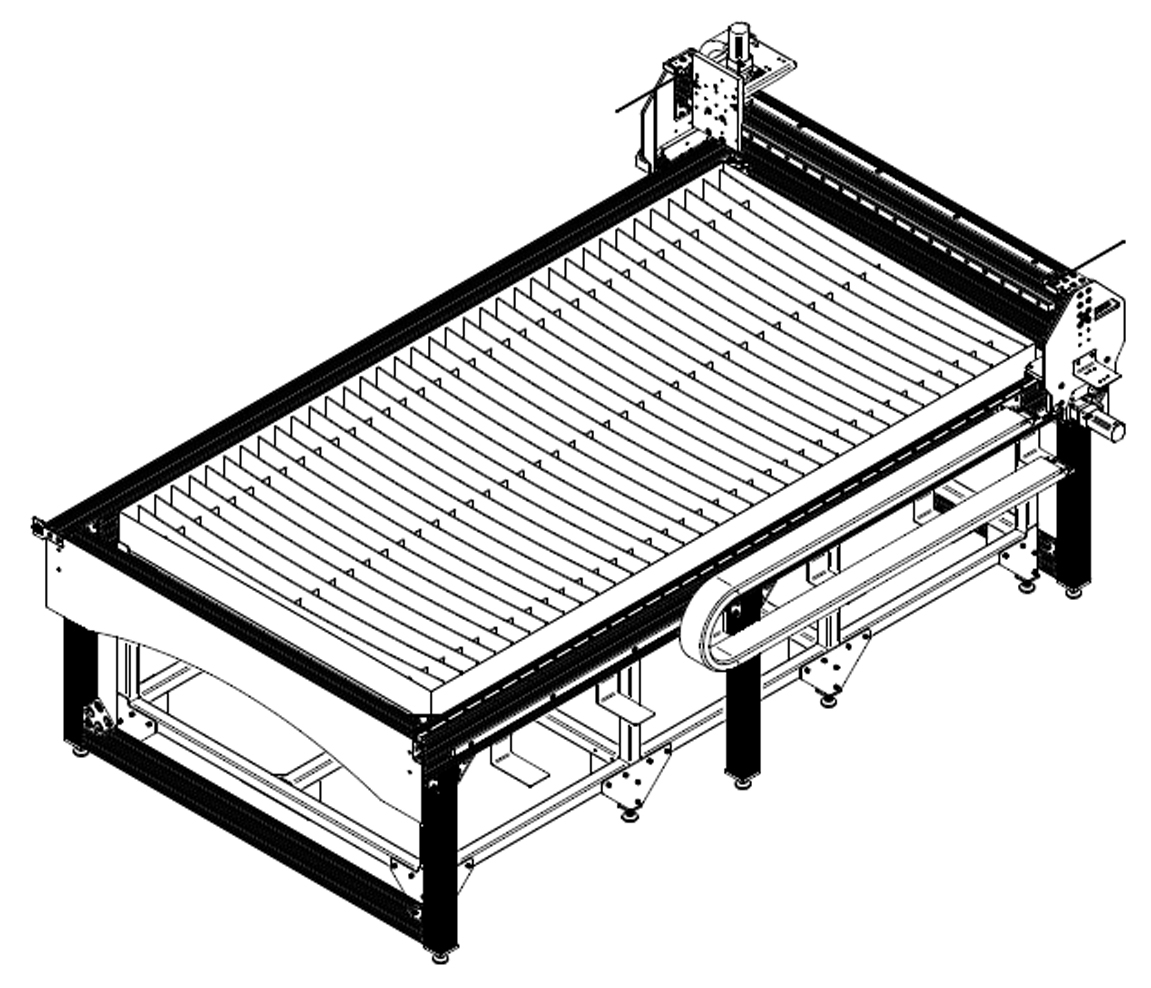 The 4x8 Torchmate Classic CNC table with optional watertable does not require slat supports. For tables without the optional watertable, please include slat supports in your order.
Slats are considered a consumable item and are not included with the purchase of your CNC plasma machine. Slats can be sourced at your local metal supply.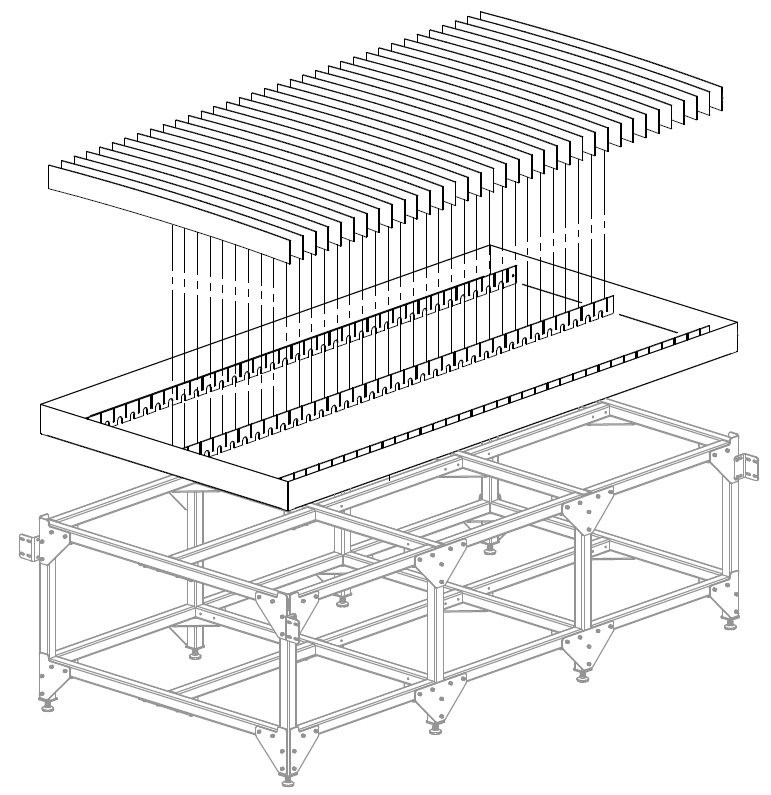 Additional Options | Torchmate Classic
Plate Markers are available options for the 4x8 and 5x10 Torchmate Classic CNC machine.
Oxy Fuel Systems are an availble option for the Torchmate Classic CNC Table.
To learn more about the Torchmate Classic