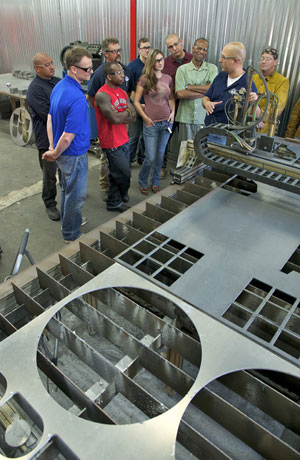 Torchmate is offering their state-of-the-art, affordable, robotic metalcutting machinery to shop classes in schools across the country, giving teachers a real world tool to teach design and manufacturing  skills to the next generation of airplane builders, automobile manufacturers and engineers. Versatile, technologically advanced and backed by the most comprehensive technical support in the industry,  Torchmate CNC machines are the perfect fit for high school and community college vocational training classes.

The machine students will see in the classroom is no different than the machine they will see in the real world. Training on a Torchmate machine builds both students' design skills and their application of  those skills into actual fabrication. While metal cutting is a Torchmate machine's most recognized feature, the machine can also be used for intricate wood-working, routing, Plasma cutting, vinyl sign making and drilling.

For schools on a budget, this means that the machine can be used in multiple classes and for a variety of tasks. Each machine has the most advanced technological features, like repeatability,  integration with CAD and CAM software, and USB port compatibility. Using the Torchmate machine, students are able to grasp CAD and CAM design, as well as see the completion of their design into a final product. Machined parts on a Torchmate machine can be welded and finished — allowing students the full educational experience in hands on manufacturing. Students are able to put multiple skills together using a Torchmate machine, allowing them to leave school not as an entry-level worker, but as a skilled CNC machine operator.

Teachers are able to unlock the full potential of a Torchmate machine by taking advantage of Torchmate's superior technical support system. The company's Reno, NV-based technical support has deep knowledge of the full function of each machine. Free of charge, one of Torchmate's dedicated support staff will work with metal shop teachers to help them understand each facet of the multi-functional  machine.
Educational Programs using the standard Torchmate software can now upgrade to the EDU package. 
Give your Students the Full Cad/Cam experience! EDU software now available!
-Unlimited Student licenses
-One master teach License
-With Edu software you no longer need to purchase multiple dongles/drives for your students.
UPGRADE TODAY!! Call 775-673-2200.
 
Torchmate machines are currently in use in schools across the nation. Call us today for more information and pricing. Toll free (866) 571-1066 or internationally (775) 673-2200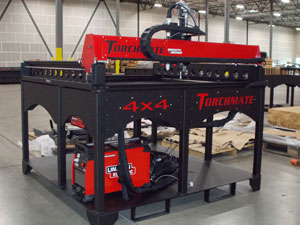 Torchmate 2'x2' Growth Series CNC System Plasma Educational Package
Includes:
2'x2' table top CNC system with cable carrier
Waterbed table for fume control and material support
True Arc Voltage Height Control with accurate adjustment while cutting (machine torch required)
Plug N Play USB electrocs box - all cabling included
Full Torchmate CAD/CAM shape creation software includes nesting, scanning, tool pathing, kerf compensation and importing of 32 different file formats. Unlimited student CAD/CAM educational licenses with 1 master teacher license
Visual Machine Driver software accepts all dxf files and straight g-code
Clip art dxf package with printed directory and disc of over 6000 files including theme designs, borders, fonts, numbers, floral, animals and more
Shutoff switch
Computer shelf for laptop
Machine is completely assembled with base and slats
Machine is tested before shipping
Free unlimited phone and email tech support via a trained, dedicated and professional support staff
 Torchmate 4'x4' Growth Series CNC System Plasma Educational Package
Includes:
4'x4' table top CNC system with cable carrier
Waterbed table for fume control and material support
True Arc Voltage Height Control with accurate adjustment while cutting (machine torch required)
Plug N Play USB electronics box - all cabling included
Full Torchmate CAD/CAM shape creation software includes nesting, scanning, tool pathing, kerf compensation and importing of 32 different file formats. Unlimited student CAD/CAM educational liceses with 1 master teacher license
Visual Machine Driver software accepts all dxf files and straight g-code
Clip art dxf package with printed directory and disc of over 6000 files including theme designs, borders, fonts, numbers, floral, animals and more
Shutoff switch
Computer shelf for laptop
Machine is completely assembled with base and slats
Machine is tested before shipping
Free unlimited phone and email tech support via a trained, dedicated and professional support staff
TORCHMATE 2'X2' CNC SYSTEM- PLASMA EDUCATIONAL PACKAGE
INCLUDES:
 2X2 TABLE TOP CNC SYSTEM WITH CABLE CARRIER
WATERBED TABLE FOR FUME CONTROL AND MATERIAL SUPPORT
ACCUMOVE2 NEXT GENERATION HEIGHT CONTROL (MACHINE TORCH REQUIRED)
PLUG N PLAY USB ELECTRONICS BOX- ALL CABLING INCLUDED
FULL TORCHMATE CAD/CAM SHAPE CREATION SOFTWARE INCLUDES NESTING, SCANNING, TOOL PATHING, KERF COMPENSATION AND IMPORTING OF 32
DIFFERENT FILE FORMATS. UNLIMITED STUDENT CAD/CAM EDUCATIONAL
LICENSES WITH 1 MASTER TEACHER LICENSE.
VISUAL MACHINE DESIGNER SOFTWARE ACCEPTS ALL DXF FILES AND STRAIGHT G-CODE
CLIP ART DXF PACKAGE WITH PRINTED DIRECTORY AND DISC OF OVER 6000 FILES
INCLUDING THEME DESIGNS, BORDERS, FONTS, NUMBERS, FLORAL, ANIMALS AND MORE.
SHUTOFF SWITCH
COMPUTER SHELF FOR LAPTOP
MACHINE IS COMPLETELY ASSEMBLED WITH BASE AND SLATS
MACHINE IS TESTED BEFORE SHIPPING.
FREE UNLIMITED PHONE AND EMAIL TECH SUPPORT VIA A TRAINED, DEDICATED AND PROFESSIONAL SUPPORT STAFF
TORCHMATE 4'X4' CNC SYSTEM- PLASMA EDUCATIONAL PACKAGE
INCLUDES:
4X4 TABLE TOP CNC SYSTEM WITH CABLE CARRIER
WATERBED TABLE FOR FUME CONTROL AND MATERIAL SUPPORT
ACCUMOVE2 NEXT GENERATION HEIGHT CONTROL (MACHINE TORCH REQUIRED)
PLUG N PLAY USB ELECTRONICS BOX- ALL CABLING INCLUDED

FULL TORCHMATE CAD/CAM SHAPE CREATION SOFTWARE INCLUDES NESTING, SCANNING, TOOL PATHING, KERF COMPENSATION AND IMPORTING OF 32
DIFFERENT FILE FORMATS. UNLIMITED STUDENT CAD/CAM EDUCATIONAL
LICENSES WITH 1 MASTER TEACHER LICENSE.
VISUAL MACHINE DESIGNER SOFTWARE ACCEPTS ALL DXF FILES AND STRAIGHT G-CODE
CLIP ART DXF PACKAGE WITH PRINTED DIRECTORY AND DISC OF OVER 6000 FILES INCLUDING THEME DESIGNS, BORDERS, FONTS, NUMBERS, FLORAL, ANIMALS AND MORE.
 SHUTOFF SWITCH
COMPUTER SHELF FOR LAPTOP
MACHINE IS COMPLETELY ASSEMBLED WITH BASE AND SLATS
MACHINE IS TESTED BEFORE SHIPPING.
FREE UNLIMITED PHONE AND EMAIL TECH SUPPORT VIA A TRAINED, DEDICATED AND PROFESSIONAL SUPPORT STAFF
STANDARD FEATURES:
STANDARD EQUIPMENT :
Three motor driven
USB control box
Accumove2 next generation height control
USER CONTROLS:
PC based driver software with USB interface
INPUT POWER:
15 amp / 110 volt for controls
220 volt available
DRIVE SYSTEM:
Anti-backlash screw drive
MACHINE RESOLUTION:
AVAILABLE PLASMA UNITS:
Compatible with most air plasma cutters utilizing non-high frequency start
STANDARD SOFTWARE:
Visual Machine Design Software
(accepts any .dxf or G-code)
Torchmate CAD/CAM EDU with unlimited student versions
COMPUTER REQUIREMENTS:
Windows XP/Vista/7
1 GHz processor
1 GB RAM
30 GB hard drive
WARRANTY (2X2 AND 2X4 MODELS):
1 year warranty on electronics, parts, and software
Lifetime unlimited free technical support
2X2 MODEL FEATURES:
Small foot print
Portability
MACHINE SIZE:
36 3/4" X 36 1/4"
CUTTING AREA 1:
2' x 2'
(Can be re-indexed to cut materials larger)
TABLE TYPE:
Portable table top
Optional water table
CONSTRUCTION:
Five piece fabricated steel construction
26 sealed ball bearings for linear motion
ELECTRONICS/MOTION SYSTEM :
2.5 amp micro-stepping motor drives

269 oz. in. motors
TRAVERSE SPEED:
CUT SPEED:
4X4 MODEL FEATURES:
Small foot print
Integrated cable carrier
Multiple tool mounting configurations
MACHINE SIZE:
CUTTING AREA 1:
4' x 4'
(Can be re-indexed to cut materials larger)
TABLE TYPE:
Table top

Optional water table
CONSTRUCTION:
Five piece fabricated steel construction
34 sealed ball bearings for linear motion
ELECTRONICS/MOTION SYSTEM :
2.5 amp micro-stepping motor drives
380 oz. in. motors
TRAVERSE SPEED:
CUT SPEED:
WARRANTY:
1 year warranty on electronics, parts, and software
Lifetime unlimited free technical support