Lincoln Electric Torchmate® 4510 - A 5x10 CNC Plasma Cutting Table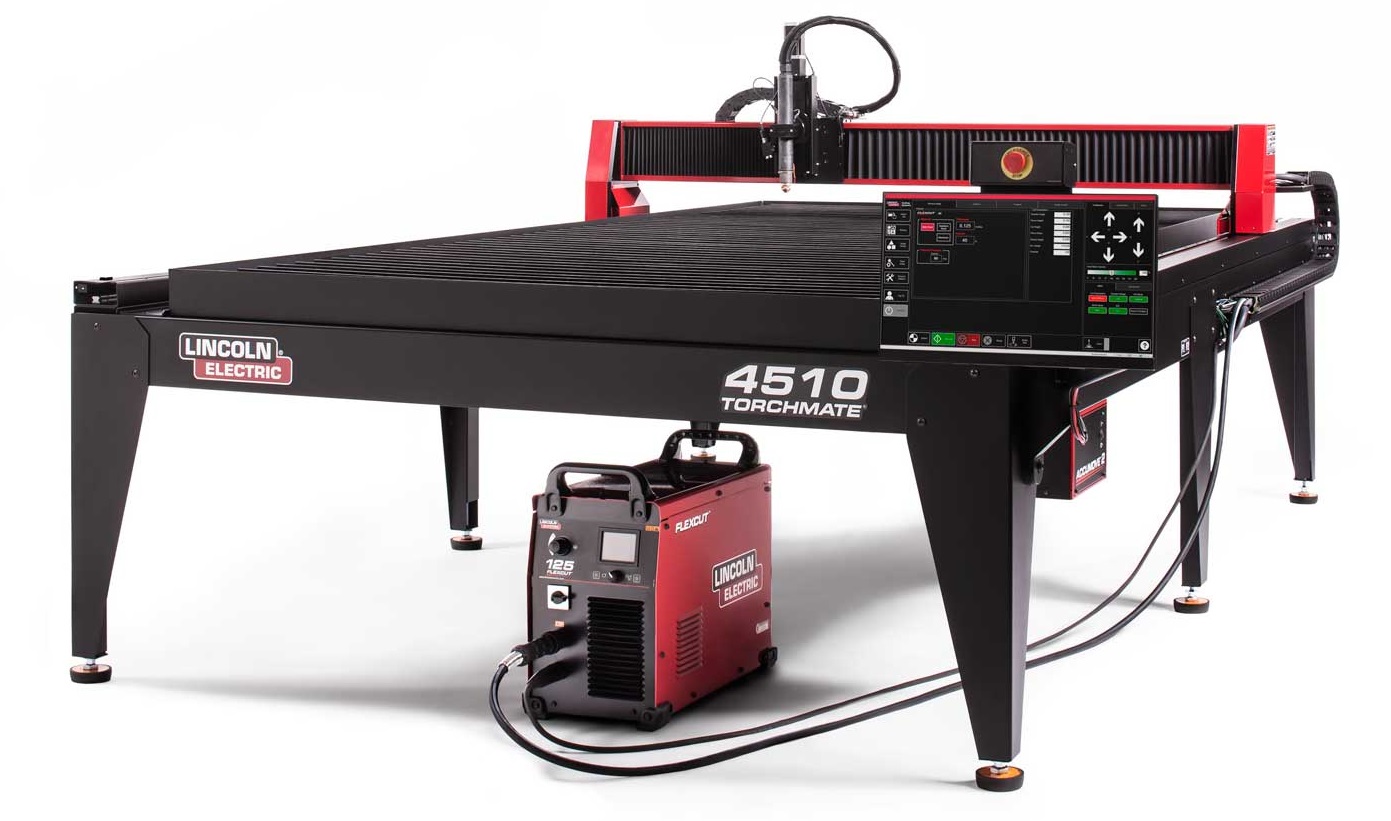 The Torchmate 4510 - A Fully Assembled 5x10 CNC Plasma Cutting System
The Torchmate 4510 is a powerful fully assembled 5x10 CNC plasma cutting table that was designed to bring robust production plasma cutting to your shop. This 5x10 plasma table allows you to cut full 5x10 sheets of metal, maximizing your revenue potential for larger projects. You'll also be able to reduce the downtime spent swapping out metal sheets during production cutting on smaller tables, and reduce costs by purchasing more cost effective metal sheets. The Torchmate 4510 is highly capable, able to hold and cut full sheets of 1" thick steel. This system ships quickly, so obtaining a Torchmate CNC plasma cutting table can be rapidly added to your operation. You will be able to quickly put this machine into use and have the potential to obtain a return on your investment in the shortest time possible. Click here to Request a Quote or give us a call at 1-866-571-1066.
Consistent Cuts Every Time

Our customers told us the 3 most important attributes of a CNC cutting table are cut speed, cut quality, and repeatability. Our global design team focused on delivering these 3 attributes. We used laser interferometry testing to prove our machine's accuracy and to generate a statistic that revealed how repeatable our linear guidance system was. The result surpassed our expectations and solidified the class of machine that we will continue to provide to our customers. Click here to Request a Quote or give us a call at 1-866-571-1066.
Everything You Need to Start Metal Cutting is Included
The Torchmate 4400 comes standard with everything our customers need to get cutting right away. It's delivered fully assembled and requires only compressed air, power, dedicated ground rod, and water to be supplied by the customer. The water table fume extraction, slat supports, computer, CAD software, CNC controller, height control, and the magnetic torch breakaway all come standard as a part of the base price. This all-inclusive machine makes buying a CNC plasma cutting table from Lincoln Electric® an easy decision. You can take a look at what our customers are saying about these new CNC tables on our success stories page.
Torchmate 4510 by Lincoln Electric CEO, Chris Mapes
Watch below as Lincoln Electric CEO gives an overview of the Torchmate 4510 - plus you'll get a sneak peek into the manufacturing facility and get a look at how Torchmate tables are built!
Call Today for a Quote
Call one of our CNC plasma cutting professionals today to discuss buying a cutting table for your business. They will walk you through the specific applications of our CNC system and how it can improve your business and guide you to the best plasma table for your needs. Call today 1-866-571-1066.
Choosing the right plasma table for your organization can be a complicated task, with Lincoln Electric's 125 years in business you can be confident we are here for you every step of the way - and that we'll be here to support you far into the future. Our goal is to partner with you for life - giving you the support and tools you need to grow and achieve your goals. A discussion with one of our reps is one of the best decisions you'll make - many of them have decades of experience helping customers with plasma tables and will make sure you have all the information you need to make the best decision for you.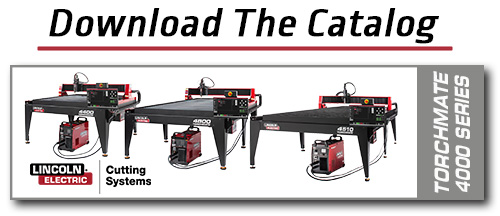 Download the Catalog and the Specification Sheet
Click on the image to the right to download a complete catalog for the Torchmate 4000 Series plasma tables. Inside you will find full specifications on the table, warranty information, and all the features and benefits of owning a Lincoln Electric Cutting Systems CNC plasma cutting table. Take a look at the details of our industry leading support options that come with every table purchase as well as some of the great feedback and projects being created by users of the Torchmate 4000 Series cutting machines. To download the specification sheet, please click here.
See the ROI Study and Assembly Details on the 4000 Series CNC Plasma Machines Below
Request A Quote - Receive a Quote on the Torchmate 4510 Table By Email

Financing Now Available

Call us today at 1-866-571-1066 for details or visit our Financing page here.

See the Stories of Successful Torchmate Owners!

Click here for the Terms and Conditions for the Torchmate 4400 and 4800 machines.