CNC Education Packages - Bring CNC Cutting to the Classroom
Torchmate CNC Plasma Cutting
CNC Plasma Cutting Tables for Education - A Robust Solution
Torchmate is offering their affordable robotic metal cutting machinery to shop classes in schools across the country, giving teachers a real world manufacturing tool to teach CAD software and CNC operations to the next generation. Versatile, technologically advanced, and backed by the most comprehensive technical support in the industry, Torchmate CNC machines are the perfect fit for high school and community college vocational training classes.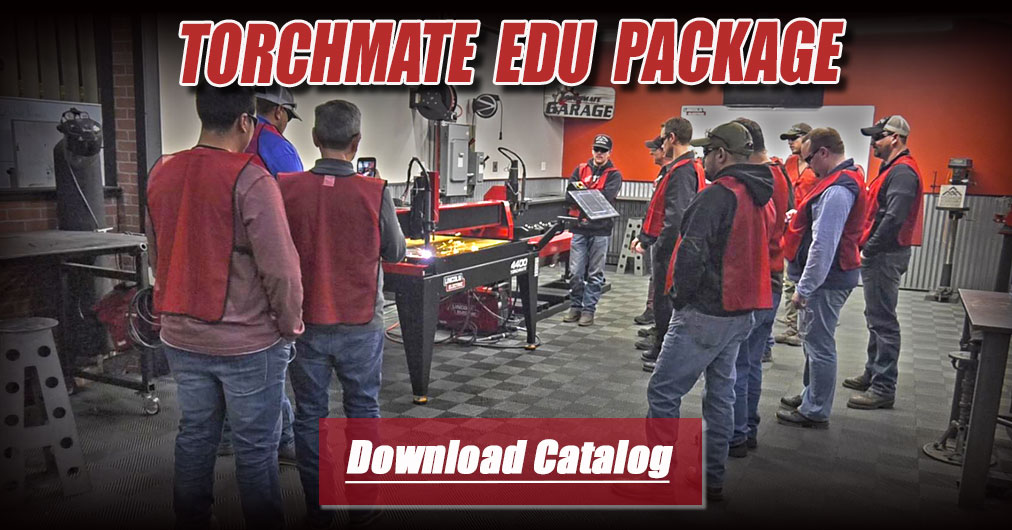 The machine your students will use in the classroom is no different than the machine they will see in the real world. Our company is the industry leader in CNC plasma cutting technology, and has sold more machines than any other competitor on the market. Their investment in learning the technology in the classroom will likely save time in training with their employer after graduation.
See How Waukesha County Technical College Uses Their Torchmate to Prepare Students for the Future
WCTC Success Story
Each machine has the most advanced technological features like, a touch-friendly user interface, integration with CAD and CAM software, Ethernet connectivity, and digital torch height control. The Torchmate machine allows students to grasp CAD and CAM design, as well as see the completion of their design into a final product. Machined parts on a Torchmate machine can be welded and finished — allowing students to get the full educational experience in hands-on manufacturing. Students are able to put multiple skills together using a Torchmate machine, allowing them to leave school not as an entry-level worker, but as a skilled CNC machine operator.

Call us today to create a plan for funding your school's very own Torchmate CNC plasma cutting table. (775) 673-2200
Educational programs using the standard Torchmate software can now upgrade to the EDU package.

Give your students the full CAD/CAM experience! EDU software is now available and includes unlimited Student Lincenses and one Master Teaching License.

With EDU software you no longer need to purchase multiple dongles/drives for your students.
Download our Grant Writing Guide Today!
This excellent Grant Writing Guide is a helpful tool for securing grant money or gaining approval from your school for the purchase. Fill out your information below and you will receive the Grant Guide via email.