Torchmate® 4400 and 4800 CNC Plasma Cutting Tables
The 2019 Models Are Here! See Details Below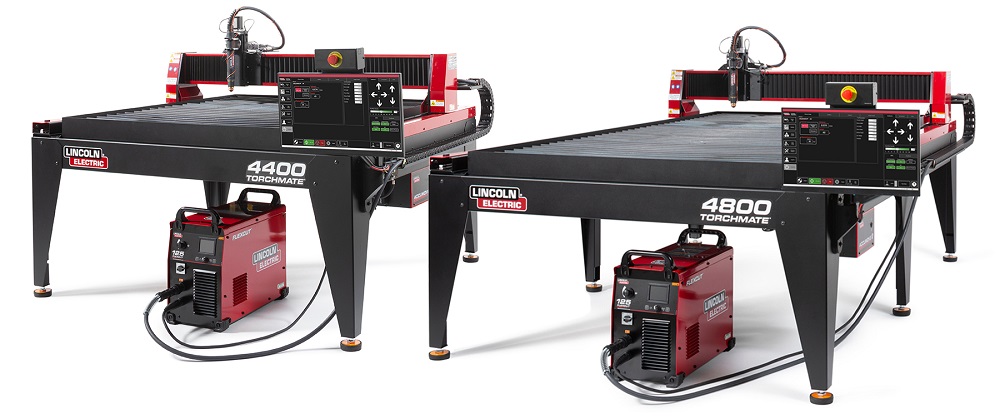 4x4 and 4x8 CNC Plasma Cutting Packages - Ready to Run in 30 Minutes or Less
Lincoln Electric® has built these CNC plasma cutting tables to integrate 100% of the machine under a single warranty. This means that one company is solely responsible for the development and support of these products, making it even easier for our customers to use one phone number to answer all of their questions. These fully assembled machines come with everything you need to start metal cutting immediately. Our cutting tables are built to handle long working hours with minimal required maintenance. View the full details and specifications on both models below, then request a quote or give us a call at (775) 673-2200 with any questions you may have.
Reliable and Robust Table Mechanics and Easy-To-Use CNC Software
The mechanics of these tables were engineered to withstand industrial shop environments and long work hours. Fabricators from every industry can rely on this machine to consistently cut accurate metal parts day in and day out. It was made to be easy-to-use and intuitive. Users from every background will find the Visual Machine Designer software to be simplistic and easily programmable. The Torchmate 4400 and 4800 are also delivered fully assembled and can be en route to your business within the week! You will only need power, water, compressed air, and an installed ground rod before you are able to cut your first job. We also offer a full online training course allowing you to begin learning how to operate your machine before it arrives. Start your first course today by following the Torchmate University video curriculum. It's completely free and requires no registration. Click here to Request a Quote or give us a call at 775-673-2200
New Service Pack 1 Ease of Use Improvements to the Touchscreen Interface
Onboard DXF Import capability - now bring in any DXF file for rapid cutting
Onboard Irregular Nesting - maximize your cutting ability with an advanced nesting system built directly in to the touchscreen interface, maximizing material usage and eliminating waste
Enhanced touchscreen interaction - speed and functionality improvements across the board from customer feedback to make your every day life much easier
The 2019 Torchmate 4400 and 4800 Model Information and Updates!
The 2019 models of the Torchmate 4400 (4x4) and 4800 (4x8) CNC plasma cutting tables bring you a brand new advanced online training system - Torchmate Academy! Torchmate Academy is a High Definition, detailed video walkthrough of your new Torchmate table. It covers everything you need to know - including setup, operation, detailed Torchmate CAD videos, and maintenance.
You will have constantly updated premium video content available to you 24/7 covering every aspect of the machine. Our expert video training will ensure you have complete confidence in your new machine and will be able to start cutting your designs out as soon as your machine arrives. Watch the video below for all the details!
Give us a call today at (775) 673-2200 to learn more about the 2019 models, or Request a Quote!
Click on the product images below for specific information on each machine.
Spend Less | Get More | Out Perform Your Consumable Life Expectations
Torchmate CNC plasma cutting tables are configured with a motion controller that sets the bar for acceleration and deceleration rates, a plasma cutter that increases cut speeds and outlasts competing consumable life cycles by nearly 3x, and a linear motion system that hits gantry and torch travel speeds of up to 500 ipm. All of these features accelerate cost savings for our customers. The faster cut speeds and higher acceleration and deceleration rates reduce job cycle times and increase the amount of metal parts your shop is able to sell. Longer lasting consumables endure pierce counts in excess of 500 pierces before needing a consumable change. Not to mention that our customers save 45% on consumable usage each month when compared to the competition. These cost savings can translate directly into the bottom line profit for your fabrication business. Take a look at what some of our customers are saying about these new CNC machines on our video testimonials page.

Unrivaled Technical Support and Customer Service
Competing CNC plasma cutting table manufacturers use a combination of different suppliers to build a pieced-together machine. This leaves their customers looking for help amongst a myriad of companies. Lincoln Electric knows how complicated CNC plasma cutting technology is and how hard it can be to learn. We go the extra mile by equipping our customers with the largest technical support team in the industry (over twelve full-time technicians) and 24-hour access to all of our online resources through Torchmate University. The support that comes with the purchase of a Torchmate 4400 or 4800 is, without question, the best in the business.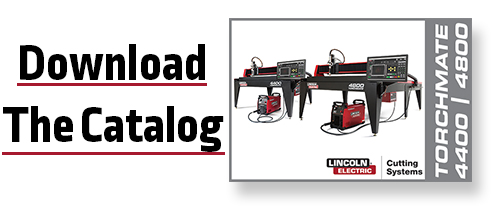 Download the Catalog
Click on the image to download a complete catalog for the Torchmate 4400 and 4800. Inside you will find full specifications on the table, warranty information, and all the features and benefits of owning a Lincoln Electric Cutting Systems CNC plasma cutting table. Take a look at the details of our industry leading support options that come with every table purchase as well as some of the great feedback and projects being created by users of the Torchmate 4400 and 4800 cutting machines.
Machines Are In Stock and Ready To Ship
Lincoln Electric Cutting Systems in Reno, Nevada has these machines in stock. Next day shipping is available. Businesses can take advantage of our proactive training opportunities that allow you to train your team before your machine even arrives. These opportunities include Torchmate University and an optional on-site CAD training course hosted at our Reno, Nevada headquarters. We also offer an optional 2-day install and training provided by a trained Lincoln Electric Cutting Systems technician. Call today to talk with a trained sales professional to quote the right plasma cutting system for your business. (775) 673-2200. You may also request a quote on our tables here.
See More Details on our CNC Plasma Machines Below
Request A Quote - Receive An Automated Quote on Our Tables By Email


Financing Now Available

Lincoln Electric offers financing for the Torchmate 4400 and 4800
CNC plasma cutting machines through a third party. Financing
your machine allows you to make monthly payments over time to
pay for the machine. There are a variety of resources and calculators
available to you on our Financing web page to help you
make the best decision for your situation.