Phantom™ II
Phantom™ II CNC Controller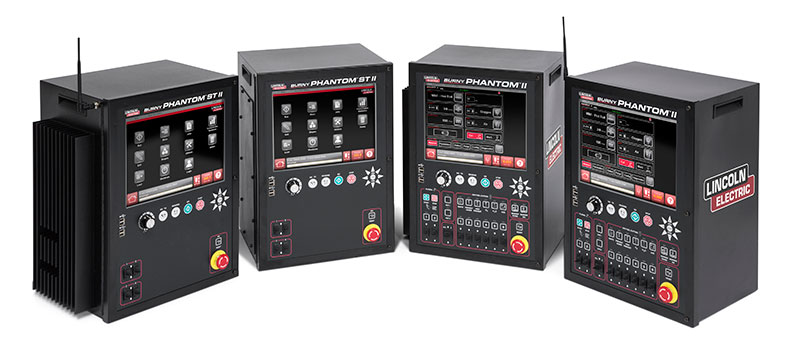 The Phantom™ II CNC controller is Lincoln Electric's most advanced motion control system. Its Burny® 8 software runs on a Windows® 8 Embedded Operating System, and has an impressive user-friendly interface. It features an integrated Spirit II plasma console, which bypasses the need for multiple screens and enables the operator to control the entire plasma cutting process with a single controller
The Phantom II also tracks torch consumable usage and can alert the operator when a consumable change is required. This feature will not only maximize the life of the torch and its consumables, but will help ensure that the highest standard of cut quality remains consistent throughout the life of the machine.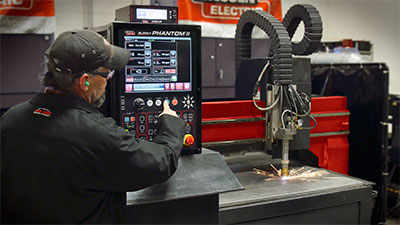 Patent-pending UltraSharp® hole cutting technology is also included on each controller we sell. It provides an industry leading ¾:1 bolt hole to thickness ratio in mild steel and produces virtually dross free cuts. This eliminates the need
for costly secondary processing due to the UltraSharp hole's superior cylindricity and repeatability.
UltraNest® nesting software is another feature that utilizes the most of every metal plate by compressing part arrays to within very tightest dimensions, including part-in-part placement. It also allows the operator to make basic edits to the part geometry and modify lead-ins/lead-outs directly in the controller.
The highest standard of cut quality is achieved because of the seamless integration of all the Lincoln Electric proprietary components. The Phantom II controller has a very easy time controlling the Spirit® II plasma system, Inova® torch height control, and the TMX Pro table. A smaller Phantom ST II controller operates the Torchmate XHD CNC table, for the XHD table does not require the expanded tool capacity of the larger Phantom II controller.
We will design a machine for your specific requirements when you call our sales team at 775-673-2200 Monday- Friday, 6:30 am-4:00pm PT.
North America (775) 673-2200 | South America: (775) 624-9029 | Brazil (+55) 19 3115 2711